Health and Wellbeing
Newport MIND - Project Parent
The Whole School Approach team at Newport Mind would like to share Project Parent with parents and caregivers. Project Parent was created in collaboration with young people, in order to let their parents and caregivers know how they want to be supported to talk about their feelings.
Video - http://tiny.cc/projectparent
Booklet – Linked below
This resource present information about:
• Actions that create barriers to communication
• Phrases young people feel create a barrier
• Phrases young people want to hear
• Active listening skills
• Signposting for young people, and parents and caregivers
We have compiled some guidance and information below to support our St Julian's School students, parents/carers and also our wider communities to feel happy and healthy. Our aim is to provide support to our families as they develop and deliver their own health and wellbeing plans if they are absent from school and work.
---
We recommend Welsh Government's national drive in promoting the five steps of health and wellbeing;
Connect. If possible, connect and keep in touch with people around you: family, friends, colleagues and neighbours. Check on one another, if visits are not possible then phone, WhatsApp, text or face time.

Be active. If possible, get active; walk, run, cycle, play a game, gardening, dancing or construct your own home-made circuit. Ensure you are eating well, drinking water and getting the rest you need to be healthy.

Take notice. Be observant of yourself, others and your environment. Give compliments, support one another, be kind and look for something beautiful in your family or nature.

Keep learning. Stay interested in local, national and international developments. How can you help yourself and others? Be aware of other opportunities to progress your learning through the school website and Google Classrooms.

Give. Being there for one another is so important; random acts of kindness, encouragement, love and generosity. Invest in yourself, family and loved ones; compassion, time, patience and citizenship.
---
Useful Links to Help You Stay Physically and Mentally Healthy
---
Ideas And Activities To Keep You Busy

Click on the image above for the link.
---
Free Applications
There are loads of useful applications in the App Store to support your physical and mental wellbeing. These apps are free, some NHS approved and others that are simply helpful with studying or keeping your mind at ease.
From cooking to meditation, here are a few free apps for the whole family to try:
Change 4 Life

Changing Health

Couch to 5K

Duolingo

Easy Meals

Feeling Good :
Positive Mindset

For Me

Headspace

iPrescribe Exercise

My Cognitive Home

Smart Recipes

Student Health

Quizlet
---
Changing Minds
Changing Minds has launched a new virtual scheme today called Write With You.
This is an email service that aims to help bring young people together, who in this time of uncertainty with educational establishments being closed, might end up feeling a bit lonely or bored!
The scheme is open for any young person aged 11-25 who is living in Newport and has access to an email account.
Newport Mind's Wellbeing Ambassadors (young volunteers aged 14-25) will be the ones that will be replying to young peoples emails. This makes this an online peer support scheme.
If you would like to apply for this email scheme, then please see the attached form HERE. This document includes further information and instructions on how to apply.
Boost - Building On Our Own Support Tools
BOOST is a new wellbeing service offering up to 6 sessions of 1-2-1 support for young people ages 10-18 in Newport.
A member of the BOOST team will support young people to build tools and coping strategies to help them manage their mental health and wellbeing.
BOOST 1-2-1 Support Referral Form - Adult Version
BOOST 1-2-1 support REFERRAL FORM - Young Person Version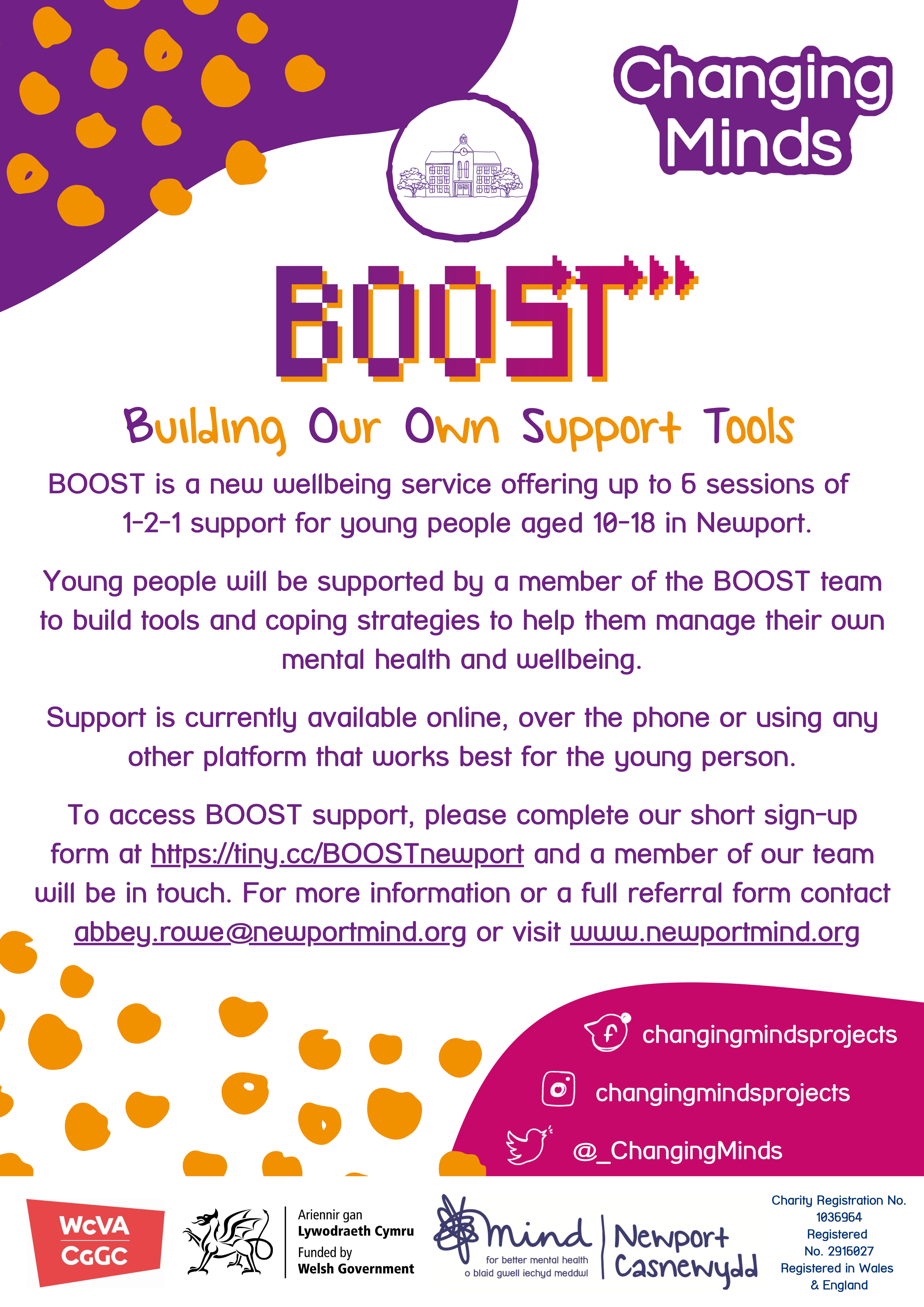 ---
NSPCC
The NSPCC are running a national campaign reminding adults to contact them if they have concerns about children.
If you would like more information, then please visit the NSPCC website or see the document titled 'NSPCC and DfE helpline toolkit (bilingual)' below.
---
Safe Internet Use
Call for parents to help keep children safe online.
Gwent Police is joining forces with local education authorities to warn parents about the dangers that lurk online.
It comes following an increase in the number of reports of children sharing indecent images online.
Throughout the Coronavirus pandemic, going online has become a way of life. It's where we all learn, work and socialise. For children, going online is the new classroom, playground or play date. Sadly, there are people out there that take advantage of this and pray on the young.
Gwent Police, with its' partners, is launching a new campaign with the simple message to parents; stop what you are doing; talk to your children about staying safe online; and protect them from harm.
Videos can be found here: https://www.youtube.com/playlist?list=PLY07Fhc1BwiPWHd-wSSl5mMfiUBJMHEsz
Website here: https://www.gwent.police.uk/en/newsroom/operations-campaigns/stop-talk-protect-stay-safe-online/
---
Barnardo's counselling and wellbeing services
The children's charity Barnardo's is launching two new services to support vulnerable families who are struggling to cope with the impact of the Covid-19 pandemic.
'See, Hear, Respond' will work with families across Wales, offering practical and therapeutic support including counselling seven days a week. The aim is to help those facing a wide range of challenges, from anxiety, loneliness and isolation to children struggling with a return to school and parents worried about relationship breakdowns or poverty.
The second will be a UK-wide helpline, the first of its kind specifically for children from Black, Asian and other minority ethnic communities who are among those who have been most badly affected.
Families in Wales can now contact See, Hear, Respond on 0800 157 7015 or visit https://www.barnardos.org.uk/see-hear-respond-net
The helpline for children from Black, Asian and other minority ethnic backgrounds is 0800 151 2605 or visit https://helpline.barnardos.org.uk
FOR MORE INFORMATION, please see the Barnardo's website - Barnardo's launches counselling and wellbeing services for families struggling with the effects of the Covid-19 pandemic in Wales
---
NHS Services for Children in Gwent
Minor Injury Units for children over 1 years old will remain at the Royal Gwent Hospital or Nevil Hall Hospital, Ysbyty Ystrad Fawr and Ysbyty Aneurin Bevan.
All children aged under 1 year old will need to be seen at The Grange University Hospital.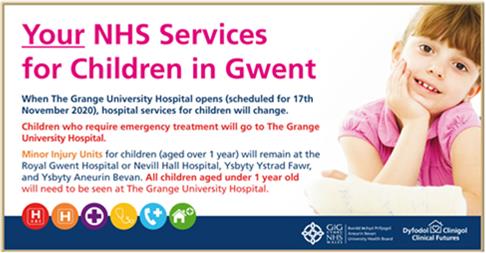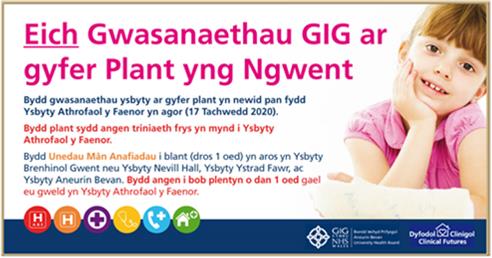 ---
LGBTQ+
Umbrella Cymru
www.umbrellacymru.co.uk
Gender and Sexual Diversity Support Specialists - Our aim is to advance gender and sexual diversity, equality and inclusion across Wales.
Rainbow Newport
www.consortium.lgbt
Our mission is to make Newport a friendlier City for all of the LGBT+ community. We aim to put on monthly LGBT+ events, from a monthly Coffee Club to quiz nights. We have no age limit and everyone is welcome. Some venues may have an age restriction though. We will try to ensure all of our event are accessible to everyone.
We want to ensure we can develop a one stop info station for people who are LGBT+ but for family and friends too. We are a group of volunteers living or working in Newport who wishes to make things that little bit easier for the LGBT+ community who may be facing difficult times.
Stonewall
www.stonewall.org.uk
We believe we're stronger united, so we partner with organisations that help us create real change for the better. We have laid deep foundations across Britain - in some of our greatest institutions - so our communities can continue to find ways to flourish, and individuals can reach their full potential. We're here to support those who can't yet be themselves.
---
Newport Mind
Newport Mind have produced a guide to helping you stay productive and positive whilst learning at home, such as top tips for setting up your workspace.
Please see the links attached below for these great resources!
Newport Mind - Online Learning Toolkit
Newport Mind - 7 Day Organiser
---
ABB Healthier Together
Please see below information from Aneurin Bevan University Health Board, who have launched a new website for young people, parents / carers and families to access health care information from local professionals.
A great new way for young people, expecting parents, and parents to access local health care advice and guidance of choosing how to access care. Please visit: https://abbhealthiertogether.cymru.nhs.uk/.