Health and Wellbeing
We have complied some guidance and information below to support out St Julian's School students, parents/carers and also our wider communities to feel happy and healthy. Our aim is to provide support to our families as they develop and deliver their own health and wellbeing plans if they are absent from school and work.
We recommend Welsh Government's national drive in promoting the five steps of health and wellbeing;
Connect. If possible, connect and keep in touch with people around you: family, friends, colleagues and neighbours. Check on one another, if visits are not possible then phone, WhatsApp, text or face time.

Be active. If possible, get active; walk, run, cycle, play a game, gardening, dancing or construct your own home-made circuit. Ensure you are eating well, drinking water and getting the rest you need to be healthy.

Take notice. Be observant of yourself, others and your environment. Give compliments, support one another, be kind and look for something beautiful in your family or nature.

Keep learning. Stay interested in local, national and international developments. How can you help yourself and others? Be aware of other opportunities to progress your learning through the school website and Google Classrooms.

Give. Being there for one another is so important; random acts of kindness, encouragement, love and generosity. Invest in yourself, family and loved ones; compassion, time, patience and citizenship.
---
Useful Links to Help You Stay Physically and Mentally Healthy
---
Ideas And Activities To Keep You Busy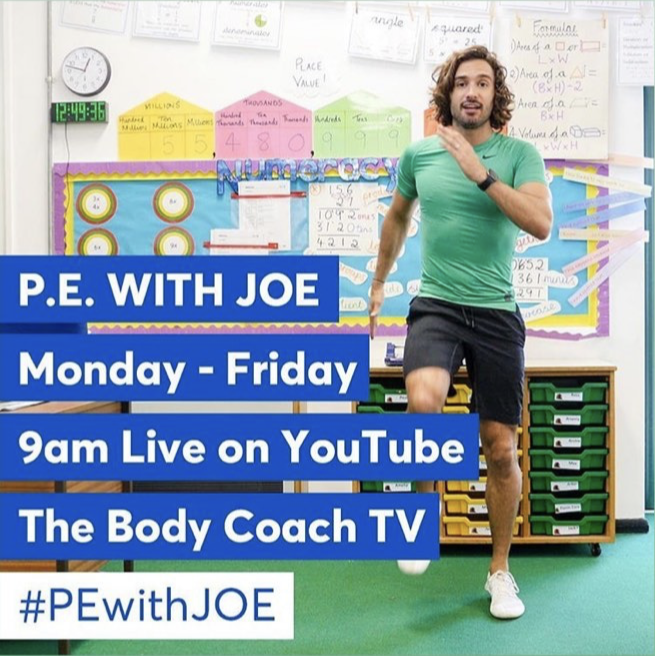 Click on the image above for the link.
---
Free Applications
There are loads of useful applications in the App Store to support your physical and mental wellbeing. These apps are free, some NHS approved and others that are simply helpful with studying or keeping your mind at ease.
From cooking to meditation, here are a few free apps for the whole family to try:
Change 4 Life

Changing Health

Couch to 5K

Duolingo

Easy Meals

Feeling Good :
Positive Mindset

For Me

Headspace

iPrescribe Exercise

My Cognitive Home

Smart Recipies

Student Health

Quizlet
---
Useful Websites
At this time you might have many questions you would like answered, and at points you might find yourself anxious and stressed.
Below are a number of websites that will be able to help:
● For general worries, go to ​www.childline.org.uk​ ​or call ​0800 1111
● For help with stress, anxiety and general mental health, go to www.youngminds.org.uk
● For advice on your thoughts, feelings and worries, go to www.newportmind.org
Here are some other useful websites:
www.mind.org.uk
www.youngminds.org.uk
www.nhs.uk/change4life
www.nspcc.org.uk
www.childline.org.uk
www.bullying.co.uk
www.kooth.com
---
Talking Zone - School Counselling Service
As you may already be aware, Talking Zone has always provided an online counselling service for students. However, previously this has only been available once a week. During this anxiety-provoking period this has been increased to operate daily as outlined below.
Monday 2-6pm
Tuesday 11-3pm
Wednesday 11-3pm
Thursday 5-9pm
Friday 2-6pm
For more information and the Talking Zone website, please follow the attached link.
---
Changing Minds
Changing Minds has launched a new virtual scheme today called Write With You.
This is an email service that aims to help bring young people together, who in this time of uncertainty with educational establishments being closed, might end up feeling a bit lonely or bored!
The scheme is open for any young person aged 11-25 who is living in Newport and has access to an email account.
Newport Mind's Wellbeing Ambassadors (young volunteers aged 14-25) will be the ones that will be replying to young peoples emails. This makes this an online peer support scheme.
If you would like to apply for this email scheme, then please see the attached form HERE. This document includes further information and instructions on how to apply.
Survey

The Changing Minds team at Newport Mind have put together the following 2-minute survey to find out the current needs of the Children, Young People and Families within our communities at this difficult time:
https://changingminds2020.typeform.com/to/sCis5Q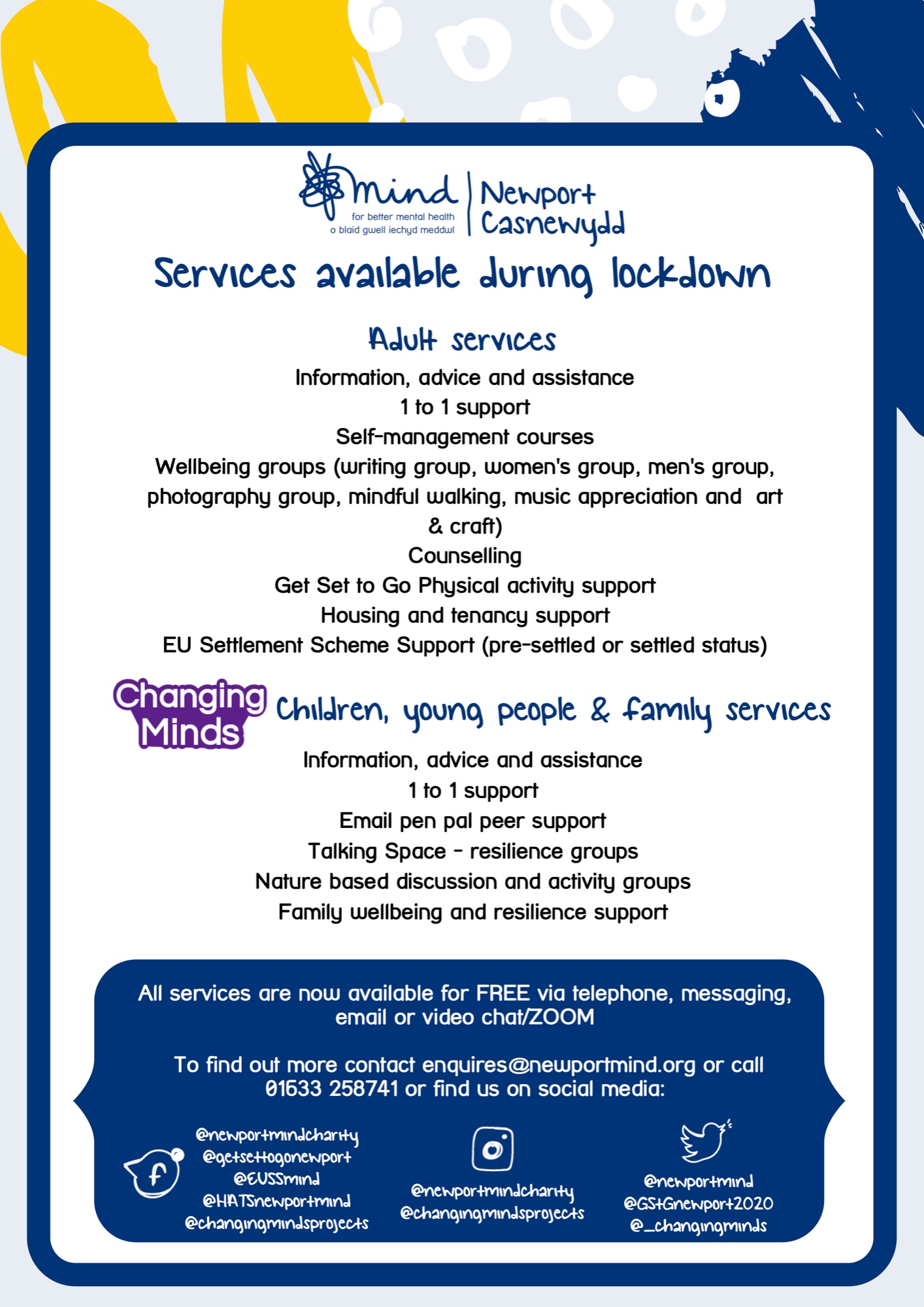 Monday 1st June 2020
Newport MIND have created a video that introduces parents to how CBT techniques can be used to help young people to identify negative thoughts and replace them with more helpful ones. They are also planning to release a follow-up Q&A session in two weeks time, responding to questions people have about parent-led CBT and sharing any stories of their experiences of trying this out. So please get in touch if you are interested!
Thursday 18th June 2020
Newport MIND have released their next session of their Wise for Wellbeing series. This week, their focus is on relaxation. They have produced an informative video where questions are answered and discussed, such as 'Why is relaxation important?', 'Building our Option's, 'Guided Visualisation', relaxing activities and many more.
Wise for Relaxation | Newport MIND
Wednesday 12th August 2020
BOOST - Building On Our Own Support Tools
BOOST is a new wellbeing service offering up to 6 sessions of 1-2-1 support for young people ages 10-18 in Newport.
A member of the BOOST team will support young people to build tools and coping strategies to help them manage their mental health and wellbeing.
BOOST 1-2-1 Support Referral Form - Adult Version
BOOST 1-2-1 support REFERRAL FORM - Young Person Version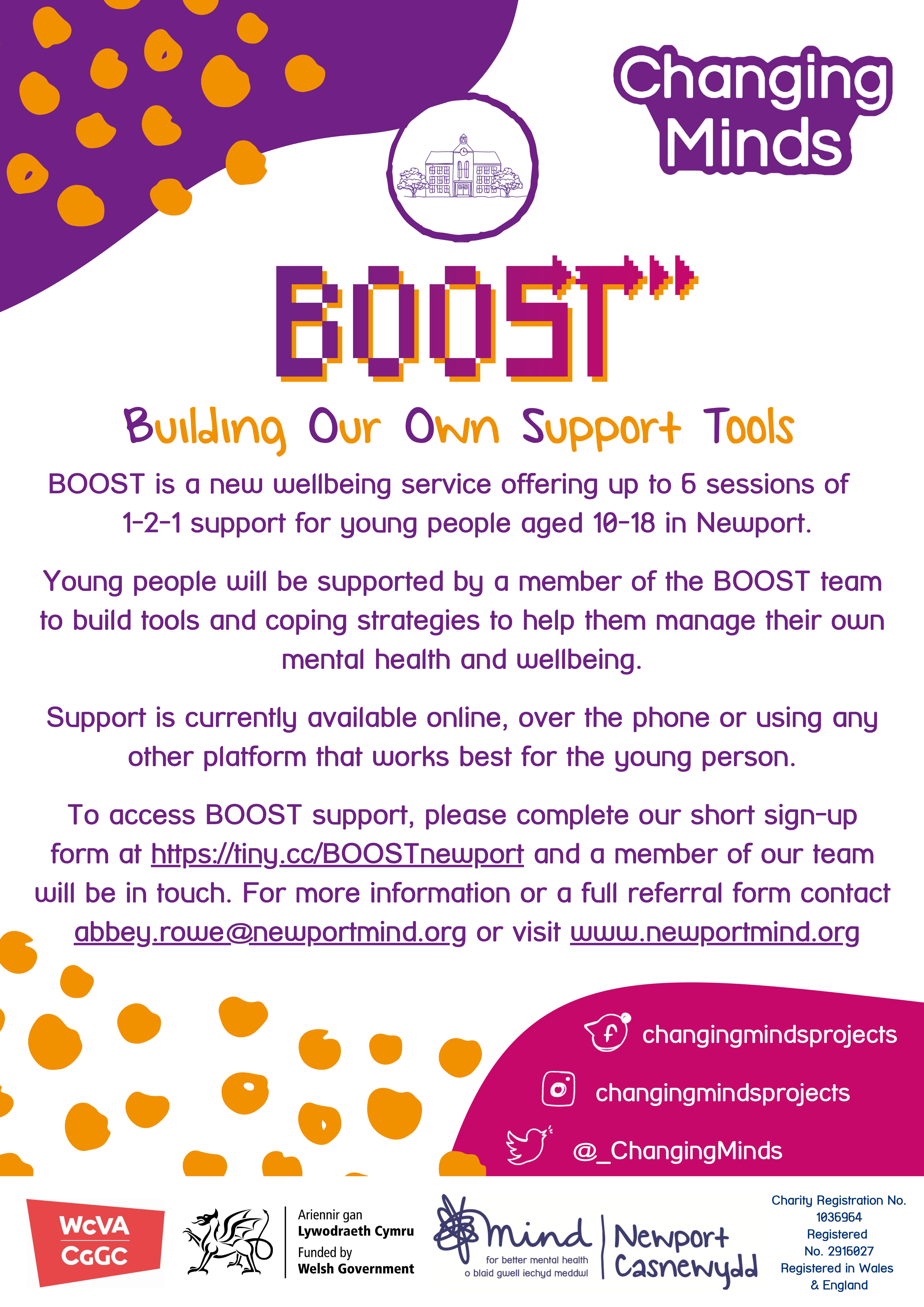 ---
NSPCC
The NSPCC are running a national campaign reminding adults to contact them if they have concerns about children.
If you would like more information, then please visit the NSPCC website or see the document titled 'NSPCC and DfE helpline toolkit (bilingual)' below.
---
Safe Internet Use
Call for parents to help keep children safe online.
Gwent Police is joining forces with local education authorities to warn parents about the dangers that lurk online.
It comes following an increase in the number of reports of children sharing indecent images online.
Throughout the Coronavirus pandemic, going online has become a way of life. It's where we all learn, work and socialise. For children, going online is the new classroom, playground or play date. Sadly, there are people out there that take advantage of this and pray on the young.
Gwent Police, with its' partners, is launching a new campaign with the simple message to parents; stop what you are doing; talk to your children about staying safe online; and protect them from harm.
Videos can be found here: https://www.youtube.com/playlist?list=PLY07Fhc1BwiPWHd-wSSl5mMfiUBJMHEsz
Website here: https://www.gwent.police.uk/en/newsroom/operations-campaigns/stop-talk-protect-stay-safe-online/
---
Virtual School Nurse Support sessions