INCLUSION and Wellbeing
Our Behavioural, Emotional Support Team work with many of our students to remove any barriers to learning. Along with dealing with behavioural incidents, they also provide emotional support for a range of issues which include bereavement, anger management, mental health issues, self-harm and friendship problems.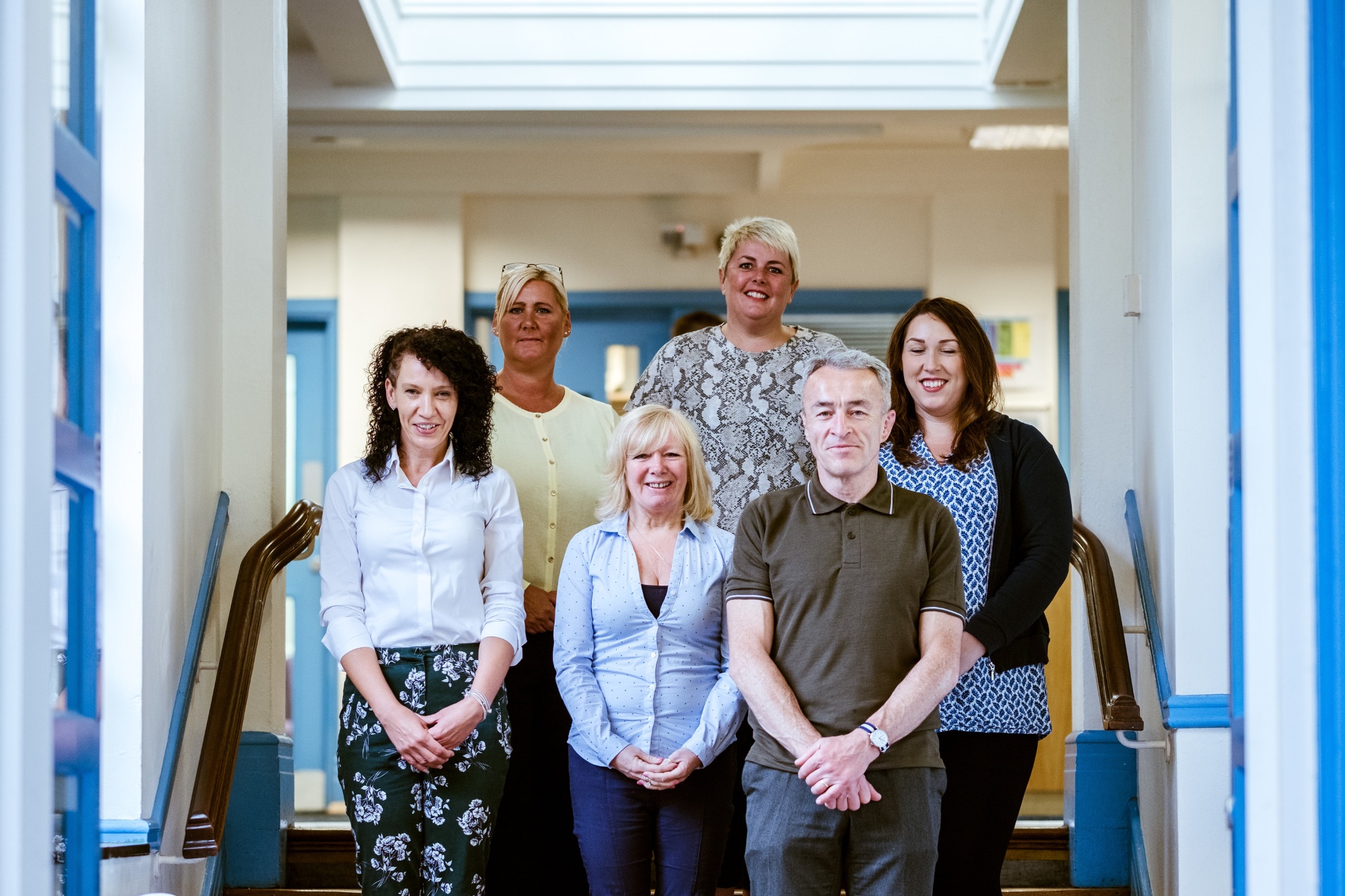 Our Inclusion Team, led by Mrs Payne (far left), work with students who require a bespoke form of support in order to keep them engaged in their learning.
This may include students who have been absent from school for periods of time or students who are struggling to make progress over a number of subjects. Their role is vital to ensure that all students leave St Julian's with formal qualifications.
We are excited to share the news that we have a new Inclusion Hwb, where all members of the Inclusion and Wellbeing team are located. Previous known as BEST, the Inclusion Hwb is available in the Tech Block for any students that need help with learning, wellbeing and attitudes.
The IRC
The IRC is a key aspect of Inclusion at St Julian's School and fulfils essential roles within the school.
It not only provides a base for students whose behaviour is affecting their learning but will also work with them to develop strategies to help students manage their behaviour more effectively.
Staff in the IRC deliver and actively engage students in 4 preventative groups to support Behaviour, Anger management, Attendance and Self Esteem.
They are also able to offer an Alternative programme for pupils at risk of fixed term/permanent exclusion; a tutorial group for pupils struggling with attendance and an array of bespoke additional qualifications, often away from a classroom, for pupils who have become dis-engaged.

Learning Coach
Mrs Griffiths is the Inclusion Team's Learning Coach. She provides support on a 1-1 or small group setting: working with pupils to overcome Learning Barriers. She is able to offer support to pupils not working to a normal timetable and also support them in completing coursework and controlled assessments.
Mrs Griffiths provides individual guidance and coaching, helping pupils to develop study skills revision strategies and exam preparation. She is also able to offer additional qualifications.

Inclusion and Wellbeing Team
Mrs L Payne - Inclusion and Wellbeing Manager
Mrs K Griffiths - Learning Coach
Mrs A Campbell - Pastoral and Inclusion Officer
Mrs K Delahey - Pastoral and Inclusion Officer
Mr S Jenkins - Pastoral and Inclusion Officer
Mrs H Vinnicombe - Pastoral Support Admin Officer
Mrs L Paske - Wellbeing and Child Protection Officer
Mrs H Trebble - Attendance and Engagement Officer
Mrs C Ryan - Education Welfare Officer (EWO)
---
Support for Young Carers
Carers Trust South East Wales have participated in a useful session with Dwr Cymru, who explained the different tariffs and support they have in place for low income households.
Please see the image below which has information and support from Dwr Cymru aimed at young carers who may be struggling with paying bills.